Jehovah is the God of promises made and promises kept.
From Genesis to Malachi, God sent prophets to proclaim the coming of Messiah.
And He used Mary and Joseph, willing servants of the Most High, to bring about His plan.
22-23 All this happened to fulfil what the Lord had said through the prophet—'Behold, a virgin shall be with child, and bear a son, and they shall call his name Immanuel'. ("Immanuel" means "God with us.")
24-25 When Joseph woke up he did what the angel had told him. He married Mary, but had no intercourse with her until she had given birth to a son. Then he gave him the name Jesus.
Matthew 1:22-25 PHILLIPS
Not only was Jesus the Child of promise, the Messiah, the Savior, He was God wrapped in flesh.
Fully God and fully human.
The King of all creation chose to subject Himself to it. He was born in the ordinary way though His conception was miraculous.
There are many religions in the world. But there is not a single other faith whose cornerstone is Deity come to earth.
Only Christianity can claim that our God left Heaven and took on flesh to dwell among His people and that makes all the difference.
Grief is isolating.
There are moments, days-even weeks-when I feel trapped inside an impermeable bubble of sorrow and pain. No human touch or words can pierce the armor around my heart.
I can't pray, I can't read my Bible, I can barely lift my head.
It's then that Jesus comes to me gently, sweetly, with grace, compassion and love because He knows every single heartache I endure. He walked the earth and was betrayed, wounded, forsaken. He is not far off and unaware.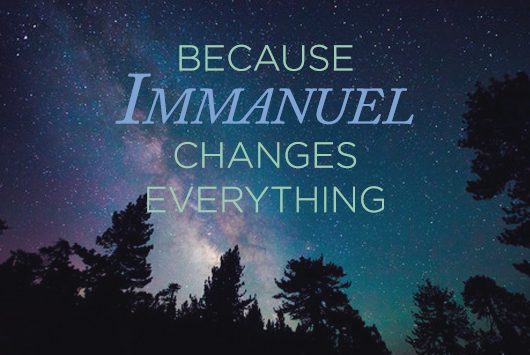 Immanuel-"God with us"-isn't just a lofty theological concept.
It (He!) is a living reality.
In my weakest and most vulnerable moments, when I can't conjure hope for myself, He brings it to me.
QUESTIONS:
What does it mean to YOU that God took on flesh?
Have you ever thought about Jesus as a man, living like a man, hitting His thumb with a hammer, stubbing His toe, loving His mother and all the other things life means? Or do you simply think about the punctuated moments described in Scripture?
The writer of Hebrews says that because Jesus experienced humanity in every way we have a High Priest who sympathizes and understands our weakness. I find that liberating! How might embracing this truth encourage your heart to bring every request, lament, praise and doubt to the throne of grace?
When have you experienced the Presence of Jesus?
PRAYER:
Father God,
Your people waited long for their Messiah. After hundreds of years You didn't just send just someone, You sent your own Son. Fully God, fully human. He walked among us. It's hard for me to wrap my head around that idea.
But what I know from experience is that You ARE the God of Presence. You do not abandon me to despair. When I am most lonely and my heart is crushed under the weight of sorrow, help me remember that.
Give me the confidence to bring the good, bad and the ugly straight to the throne of grace. Remind me that though Heaven is your high and lofty holy dwelling place it's not so far You can't hear me.
And You DO hear me. You see me. You capture my tears and count them precious. Thank You for your promises. Thank You for your peace. Thank You for your Presence.
Amen
O come, Thou Day-Spring, come and cheer our spirits by Thine advent here

Disperse the gloomy clouds of night and death's dark shadows put to flight.

Rejoice! Rejoice! Emmanuel shall come to thee, O Israel.

O Come, O Come Emmanuel